In the Spring of 2020, two of our Student Staff at NACP along with a member from UCCO received funding to move forward with three initiatives dedicated to increasing the Native and Indigenous student population and community as well as land awareness. All initiatives once completed, will be a step in the right direction towards bringing UConn to be at good relation with the land it stands upon.
"Bridging the Gap: Assessing the Needs of Native American Students in America's Higher Education"
Sage Phillips, Kiara Ruesta and Dr. Glenn Mitoma
Part I - Focus Groups with Tribal Youth 
Meeting with Tribal Youth Councils and Tribal Youth to assess their needs and hopes for higher education. These meetings will be conducted in an open dialogue style for approximately 90 minutes in order to create an inviting and open space to share. Specifically:
What do the students expect of higher education as Native American & Indigenous students?
As Native American & Indigenous students, what are their needs in higher education?
Is UConn meeting their wants and needs with adequate resources?

Focus groups will take place from

Monday, September 21- Friday, October 9. 

If your tribal community would like to participate, please contact Sage Phillips: sage.phillips@uconn.edu
Part II- Land Data Assessment
Use the data specific to UConn via "Land-Grab Universities" to create an exhibit showcasing maps that show exactly where the land parcels were prior to UConn obtaining the land. Our team will join a group on campus to assist us in accurately analyzing and representing the data.
Author Tristan Ahone of "Land-Grab Universities" to visit (Zoom) UConn as Keynote Speaker for IPD/W

Our team will speak with him more about our research

Exhibit finalized and presented (TBD)
Outcomes
To achieve the intended outcomes of this initiative we will use our findings to demonstrate the importance of acknowledging the land further in our community. With this, we will inform UConn and its administration that in order to be at good relation with the land, they must comply with what the Native population is asking of them. This includes also stronger recruitment and retention of these students. Lastly, demand a full functioning Cultural Center for Native & Indigenous Students. In showcasing our work through the exhibit, it will help the Native American Cultural Programs and the Native American and Indigenous student population advocate and demand better resources.
UCINCEE: UConn Indigenous Nations Cultural and Educational Exchange
Program Coordinator: Zoe Blevins
Part I
We will select 8-10 undergraduate students from UCONN during the fall semester to take part in a series of intensive training workshops that will educate them about local and national Native history as well as how to be respectful when entering Indigenous communities and spaces. This preparation will culminate in the students visiting the Mashantucket Pequot Tribal Nation's reservation and participating in meaningful volunteer work that will have been identified as relevant and useful by members of the community.
Part II
In the spring semester, the same UConn students who participated in the first part of the program will serve as mentors to a group of approximately 8-10 Mashantucket Pequot high school students, helping them with a variety of activities ranging from college prep to homework help. The tutoring will be tailored to the students' needs and be entirely flexible for the duration of the program.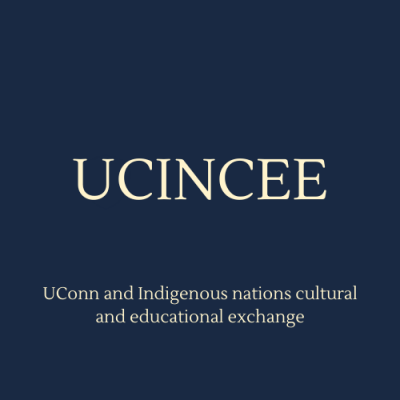 APPLY HERE
https://fs10.formsite.com/7rItg8/bmqlsluuyy/index.html
The application deadline is September 24th at 11:59 p.m.
Email zoe.blevins@uconn.edu if you have any questions
THIS LAND: A Decolonization Discussion and Exercise
Sage Phillips, Brittany Diaz - NACPxUCCO
Overview
Our intentions with this initiative is to generate more visibility for the Uconn Native American Cultural Program and the ongoing effects of colonization. As a public land grant university, the University of Connecticut is the direct product of the violent relocation of Native American tribes. What more, as is the case with all United States Territory, Storrs resides on colonized land which was taken from the Mohegan and Pequot tribes. Current events demonstrate colonization is not a figment of the past. Open any news source and you will see the protests of the Wet'Suwet'en tribe against a Canadian pipeline, Standing Rock's ongoing struggle in North Dakota, the government-sanctioned destruction of Native American burial grounds at Arizona's Organ Pipe Cactus National Monument, and locally the Killingly mascot controversy. In the face of these contemporary issues that perpetuate colonial violence, we see an opportunity to build the NACP's community presence, with the ultimate goal of encouraging the construction of a cultural center for our indigenous communities. The short term outcome of this initiative is to promote a campus dialogue on decolonization with a focus on local issues that is informed by global trends. It is also our intention to increase the visibility of UConn's Native American community and Native American Cultural Program, and increase resources for the NACP. The long term goal of this initiative is to cultivate a UConn community that is informed and respectful of its indigenous neighbors, to pave the way for an eventual Native American Cultural Center, and to encourage the implementation of decolonial methods and theory on campus. -Mateo Escobar, Class of 2020
Part I
The first part of the initiative will consist of a Blanket Exercise performed and facilitated by the Akomawt Educational Initiative for a symbolic demonstration of land theft and the devastating impact it has on indigenous communities. The facilitation will begin with the demonstration and end with a follow up discussion to reflect on ideas and identities that emerged throughout. This event will be taking place on Indigenous Peoples' Day- October 12, 2020 from 3:30-5:30pm in a virtual format. 
Part II
We will be inviting a guest speaker to the University in a virtual format. The talk will begin with the NACP's land acknowledgement. The speaker will then discuss in depth methods of decolonization, Connecticut and the United States's historic treatment of Indigenous peoples, and contemporary topics. It is our hope that this speaker will be heavily involved in the arts community. This talk will end with a discussion from panelists, participants of which are TBD.
Please note: this initiative has been modified from its original format to adapt to the impacts and restrictions of COVID-19.