November is Native American Heritage Month
What is Native American Heritage Month?
Native American Heritage Month, also known as American Indian and Alaska Native Heritage Month allows us to celebrate the many diverse cultures within Native and Indigenous communities. Although we all come together as Native peoples at our core, every tribe, nation, and clan has their own traditional ways of life and culture. NAHM at UConn is a time for our community to be represented in spaces of different topics and interests significant to Native cultures. We use the month to bring our Husky community together to learn about and uplift all Native peoples.
For 2020, our theme for Native American Heritage Month is "Indigenous Voices Rising." During this month we want to highlight all of the amazing things that Indigenous peoples in the US and across the world are accomplishing.
---
NAHM Full Calendar of Events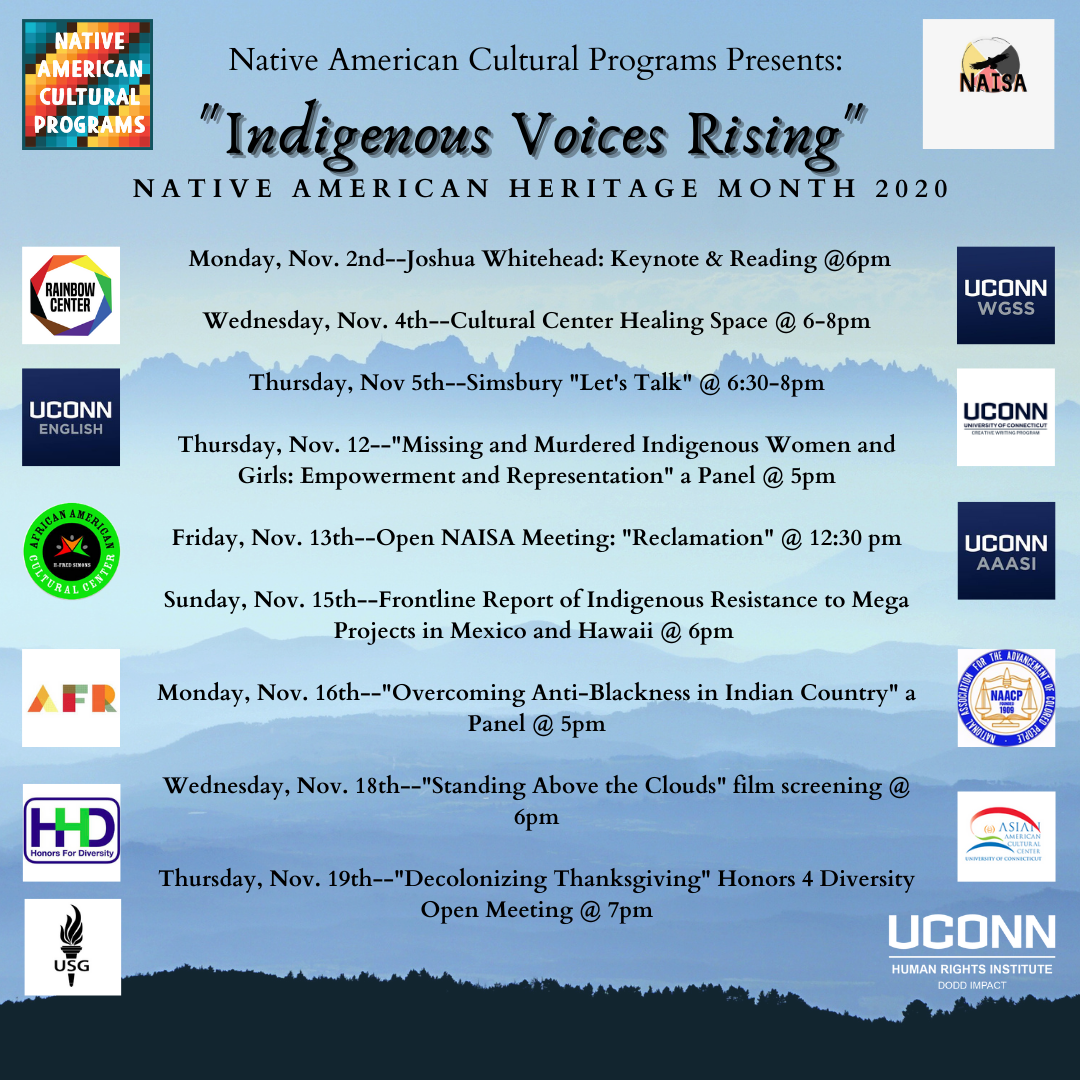 Monday, November 2nd at 6pm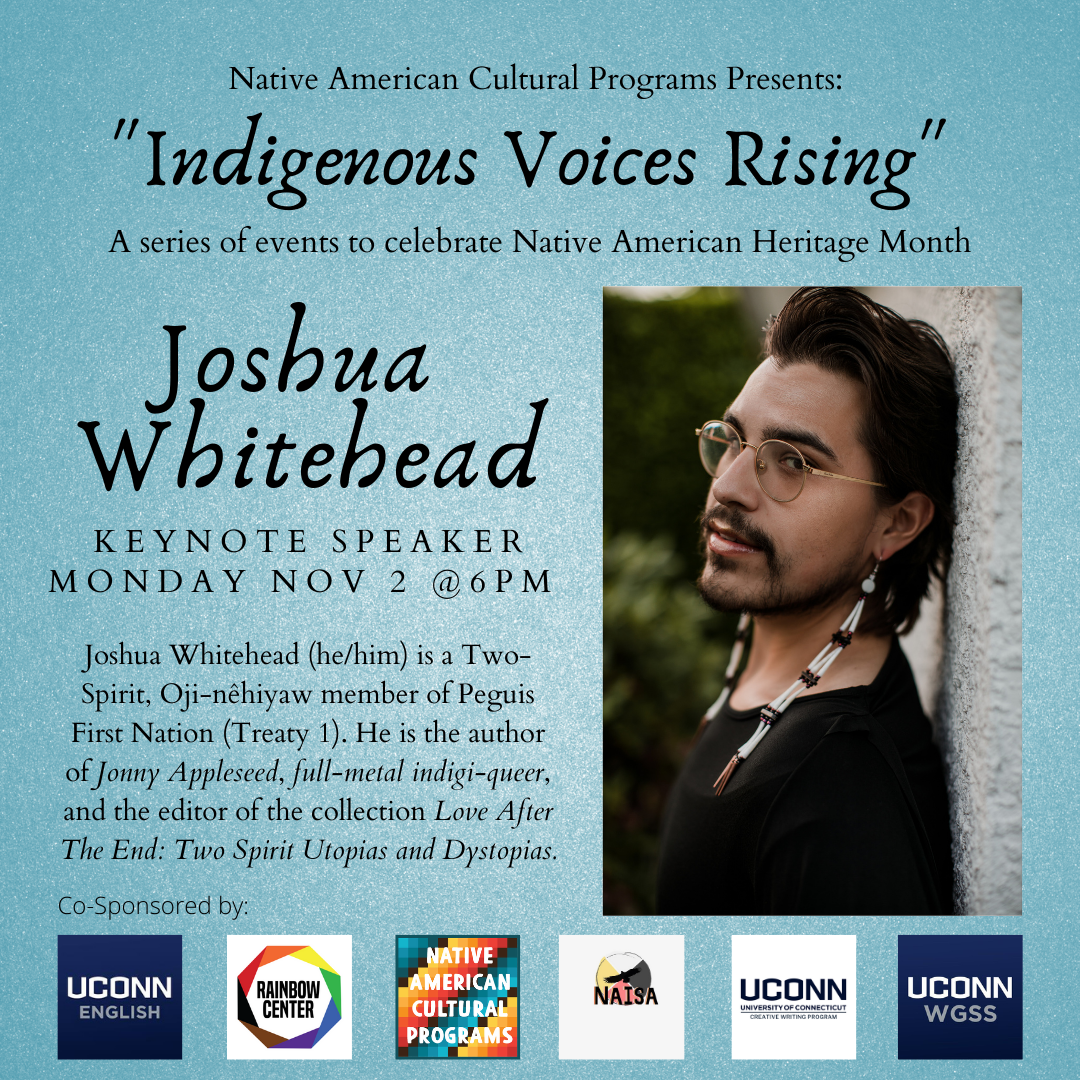 Kick-Off Native American Heritage Month with Keynote Speaker, Joshua Whitehead
Joshua Whitehead (he/him) is a Two-Spirit, Oji-nêhiyaw member of Peguis First Nation (Treaty 1). He is the author of Jonny Appleseed, full-metal indigi-queer, and the editor of the collection Love After the End: Two-Spirit Utopias and Dystopias. Joshua will give a keynote speech on the topic of "Indigenous Voices Rising" as a kick-off for Native American Heritage Month. He will also offer a reading from a selection of his works and answer questions about culture and identity, creative writing, and Two-Spirit identity.
RSVP on our Eventbrite page and attend the event to be entered in a raffle to win one of Josh's books! See the Link below:
https://www.eventbrite.com/e/joshua-whitehead-keynote-speech-for-native-american-heritage-month-tickets-126305217305
You can also join the Zoom event directly from the Eventbrite page above.
Wednesday, 11/4 @ 6pm: Cultural Center Healing Space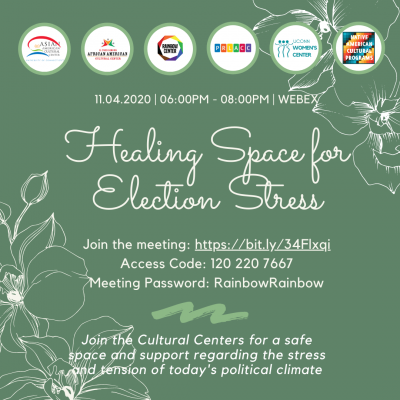 Thursday, 11/5 @ 6:30pm: Simsbury "Let's Talk"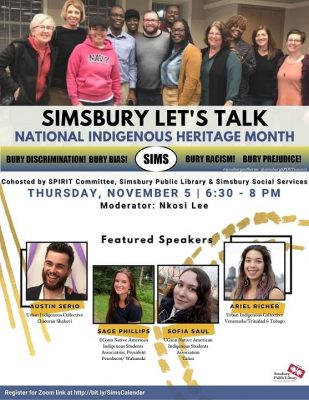 Registration for this event is closed.
Thursday, 11/12–"Missing and Murdered Indigenous Women and Girls: Empowerment and Representation" a Panel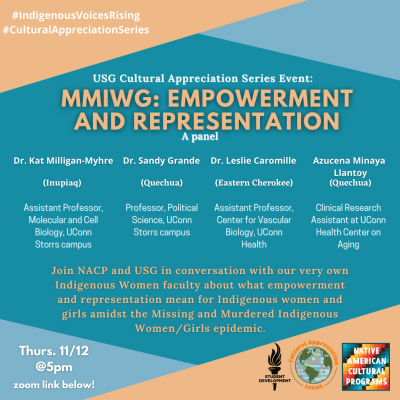 Thursday, 11/12 @ 5pm–Missing and Murdered Indigenous Women and Girls: Empowerment and Representation
Meeting ID: 968 9236 2754
Passcode: SrcC6K
Sunday, 11/15 at 6pm: Frontline Reports on Indigenous Resistance to Megaprojects in Mexico and Hawaii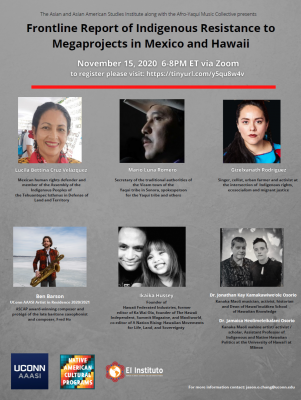 Monday, 11/16 at 5pm: "Overcoming Anti-Blackness in Indian Country" a panel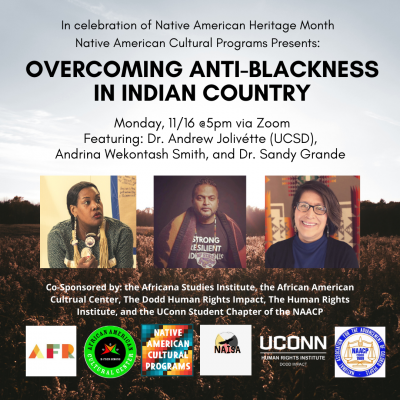 Monday 11/16, @5pm –"Overcoming Anti-Blackness in Indian Country" 
Meeting ID: 977 3773 5357
Passcode: Px7T8s
Wednesday, 11/18 @ 6pm: Standing Above the Clouds film screening and Q&A with the Kia'i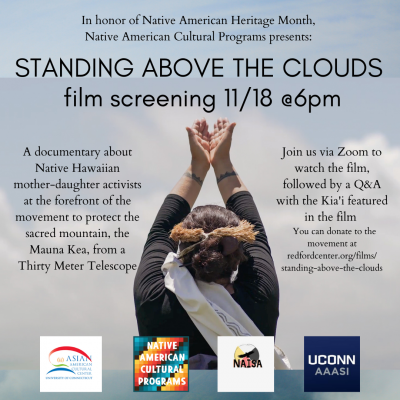 Wed, 11/18 @6pm –"Standing Above the Clouds" film screening and Q&A
Meeting ID: 941 2370 3802
Passcode: 9RnncQ