Join the Fall 2021 Planning Team!
Are you interested in event coordinating, fundraising, or advertising? Do you want to get more involved with NACP?
Join one of the three committees working on Indigenous Peoples' Week and Native American Heritage Month for this fall!
Outreach and Funding
Advertising and Branding
Events Coordinating
We have a busy fall full of programming ahead! If you would like to join or need more information, please contact Sage Phillips: sage.phillips@uconn.edu
Indigenous Peoples' Week Event Calendar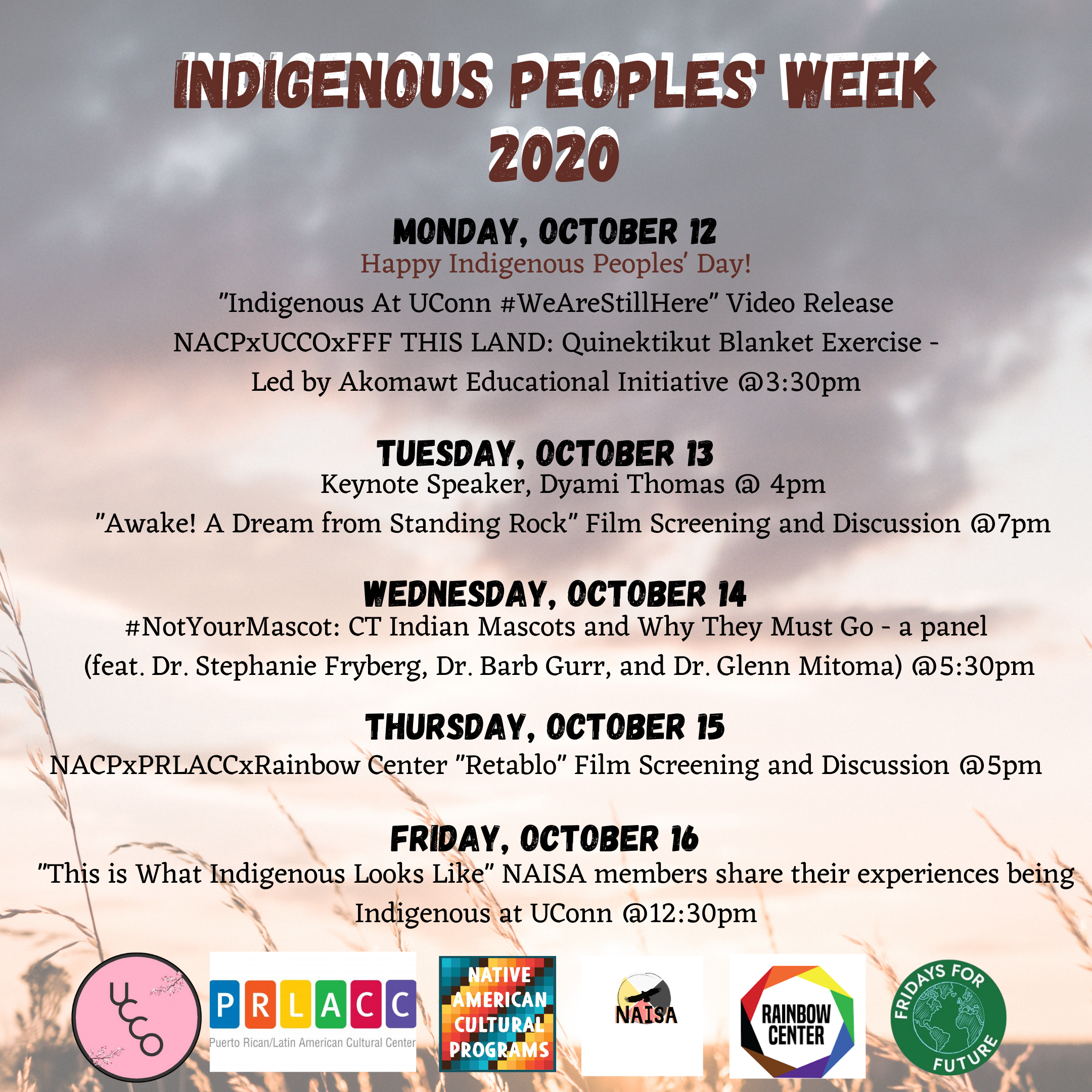 Indigenous Peoples' Week: Monday, October 12, 2020 – Friday, October 16, 2020
Indigenous Peoples' Day is a day to celebrate the legacy of Native and Indigenous peoples and recognize the impact of colonialism on our communities. It is a day to celebrate our strength as contemporary Native peoples by uplifting our cultures, traditions, ways of life, and resilience.
We are still here.
Although historically this day was recognized as C*lumbus Day, many states have dropped celebrations of the colonizer and adopted Indigenous Peoples' Day instead. At UConn, NACP provides events and celebration all week long to pay homage and respect to our ancestors and our upbringings into our culture. As contemporary Natives we must continue to pave the way for those relatives who will come after us. Our ancestors are the ones who have empowered us to do so.
See below for more information about individual events and how to join us!
#IndigenousPeoplesWeek2020 #IndigenousAtUConn #ThisIsWhatIndigenousLooksLike
Monday, Oct 12– Happy Indigenous Peoples' Day!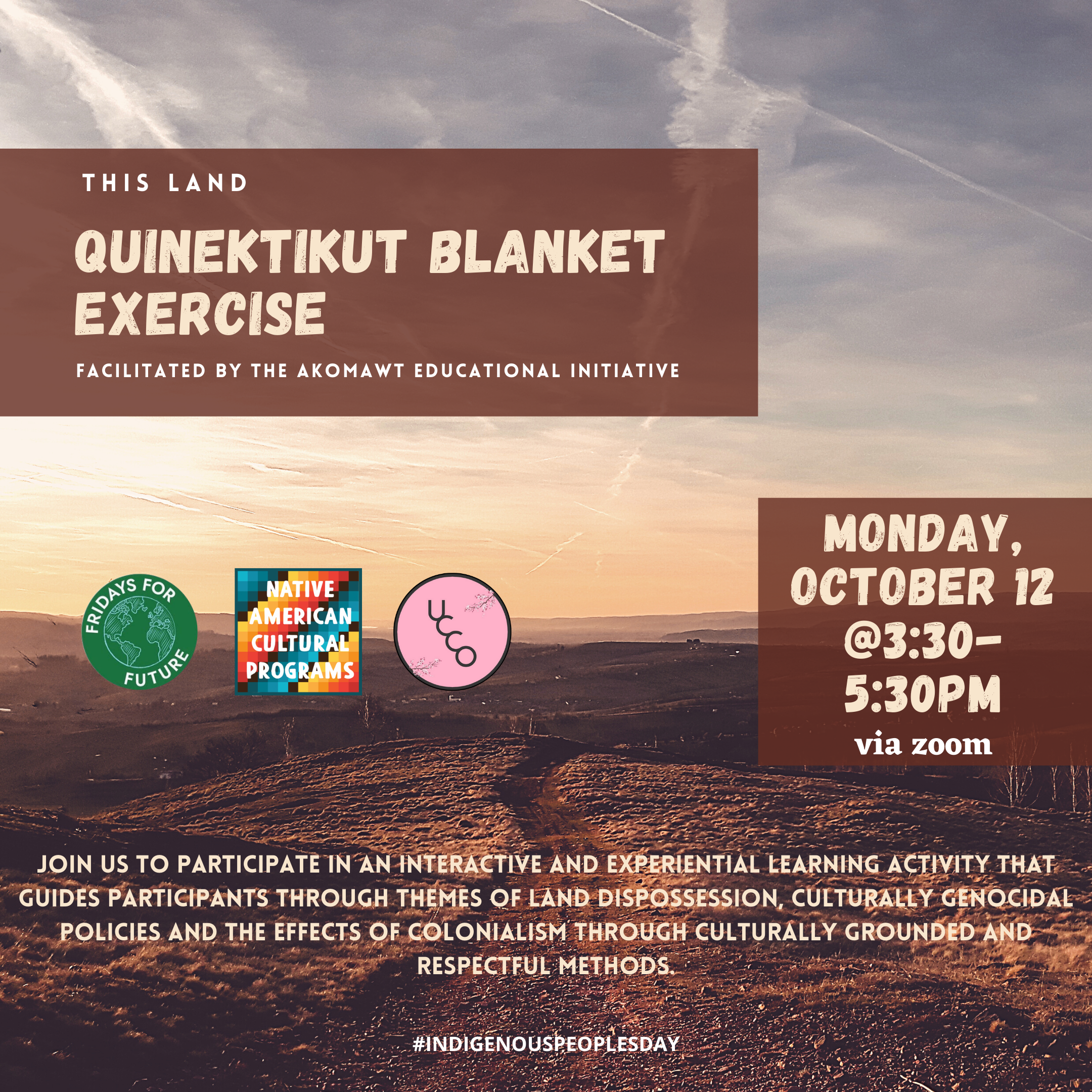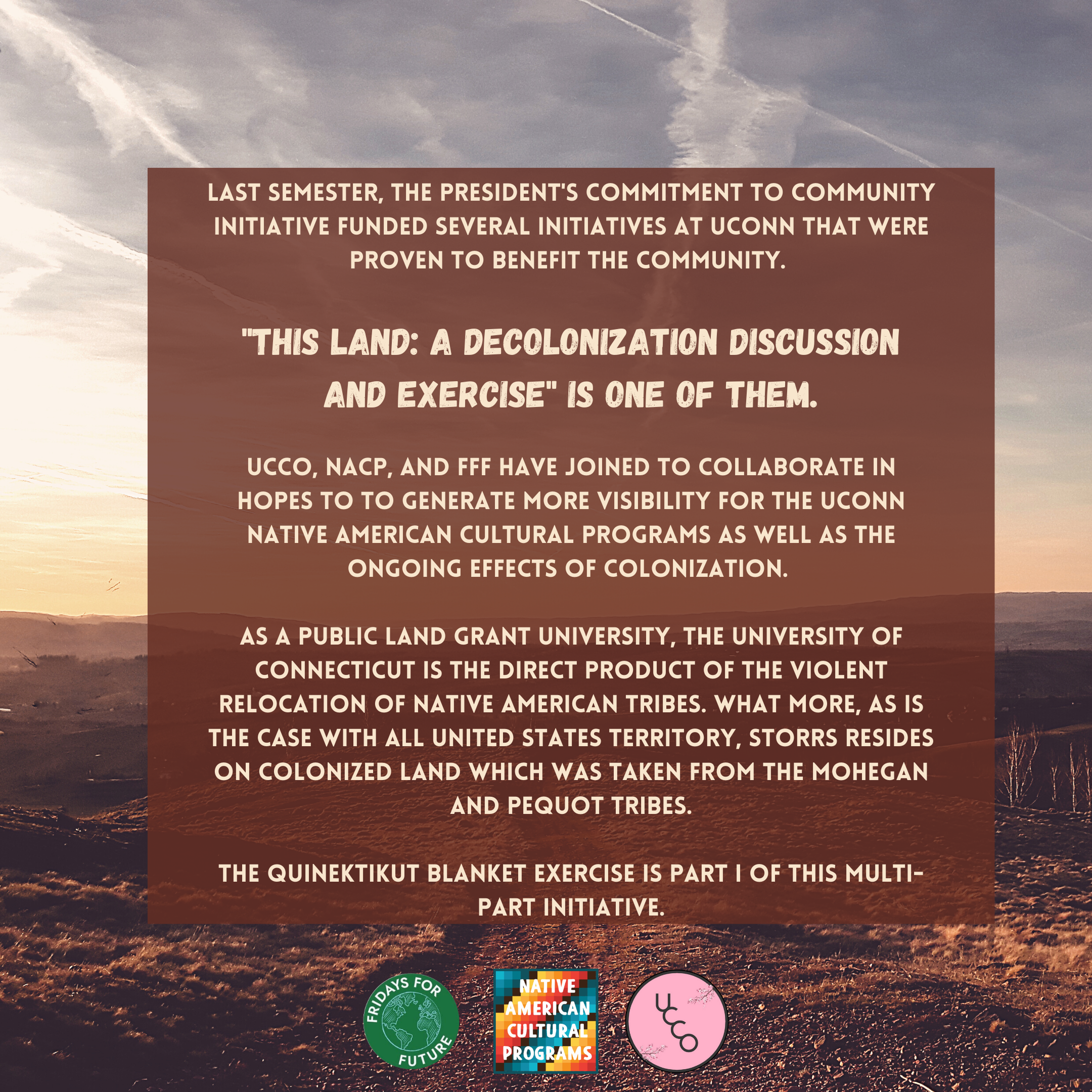 "THIS LAND: Quinektikut Blanket Exercise" 3:30pm via Zoom
Facilitated by Akomawt Educational Initiative
Co-sponsored by UConn Collaborative Organizing (UCCO) and Fridays For Future (FFF)
Join us for Part 1 of a multipart initiative entitled "THIS LAND: A Decolonization and Discussion Exercise." The Blanket Exercise is an interactive and experiential learning activity that guides participants through themes of land dispossession, culturally genocidal policies and the effects of colonialism through culturally grounded and respectful methods.
You can click here to join through Zoom. 
Zoom Meeting ID: 976 5511 7860    Passcode: iz2gye
Tuesday, Oct 13th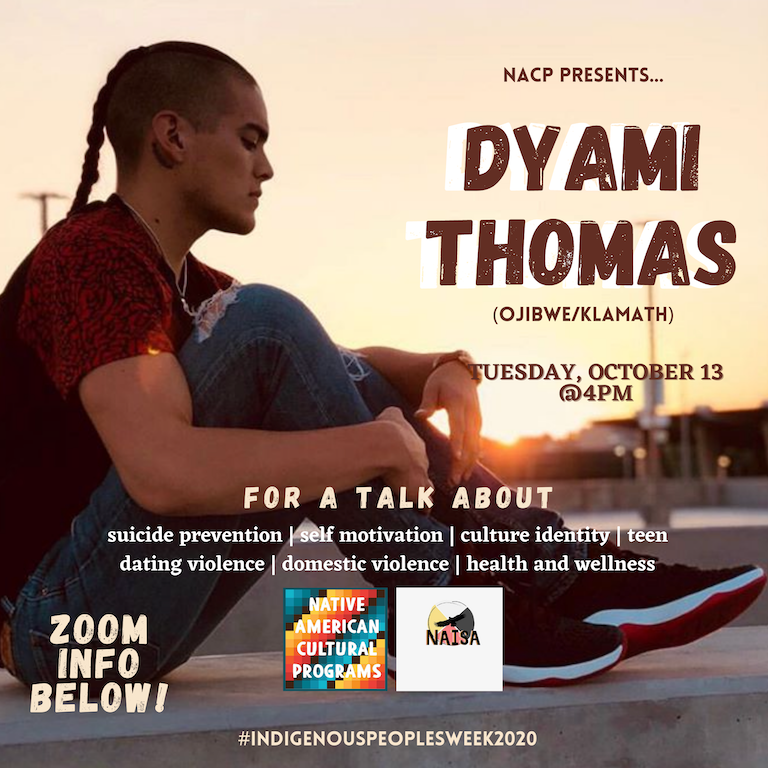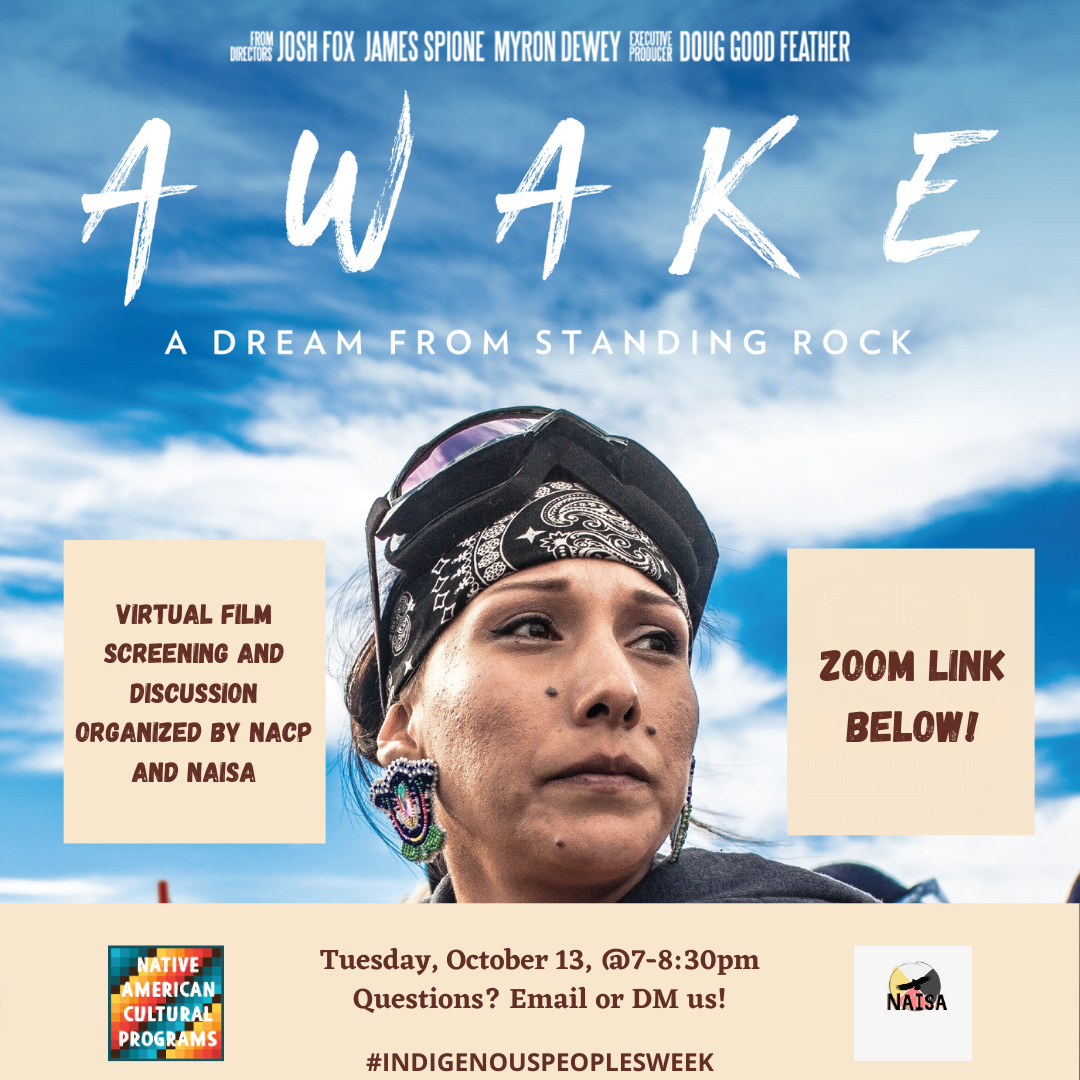 Keynote Speaker—Dyami Thomas, 4pm via Zoom
Please welcome Dyami Thomas (Ojibwe/Klamath) as he speaks from a positive and uplifting youth perspective about the importance of life, especially the highs and lows that weave throughout our journeys. Dyami will share stories, tips, and self-affirmation exercises that will teach the importance of self-care, genuine self-love, self-respect, and a renewed reflection on life. The topics covered will be suicide prevention, self-motivation, cultural identity, youth dating violence, domestic violence, and health and wellness.
Three prizes will be raffled off for those who RSVP to NACP's online event page for Dyami Thomas and attend the talk.
Click here to join us via Zoom!
Zoom Meeting ID: 934 5675 6465 Passcode: ShG7FE
Film Screening and Discussion: Awake! A Dream from Standing Rock 7pm via Zoom
A virtual film screening of the #NoDAPL documentary, Awake!, followed by a discussion facilitated by Kaylee Jangula Mootz.
Further information about the continued work of Standing Rock, and opportunities to donate, can be found at www.awakethefilm.org.
Click here to watch with us via Zoom!
Zoom Meeting ID: 987 0207 2898         Passcode: RqdNz0
Wednesday, Oct 14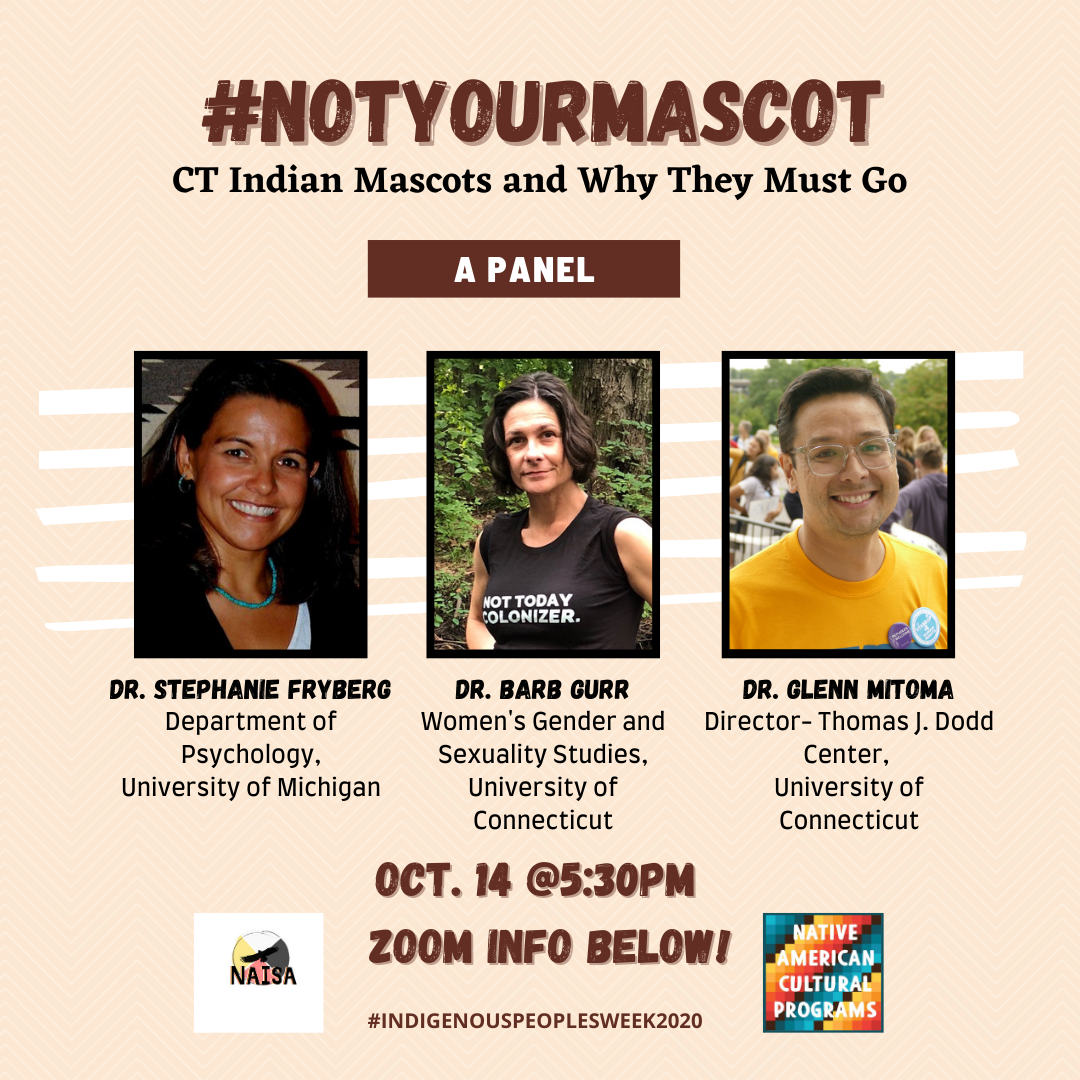 Panel–#NotYourMascot: CT Indian Mascots and Why They Must Go 5:30pm via Zoom
Featuring: Dr. Stephanie Fryberg (U of Michigan), Dr. Barb Gurr, and Dr. Glenn Mitoma
Panelists speak about the current status of the fight against CT Indian mascots, as well as the psychological costs of Indian mascots on students and community members, Native and non-Native alike.
Discussion will be led by Sage Phillips and Zoe Blevins, NACP student workers and members of the state-wide coalition to ban Native mascots.
To listen to the panel, click here.
Zoom Meeting ID: 917 4800 6962 Passcode: cC8G3J
Thursday, Oct 15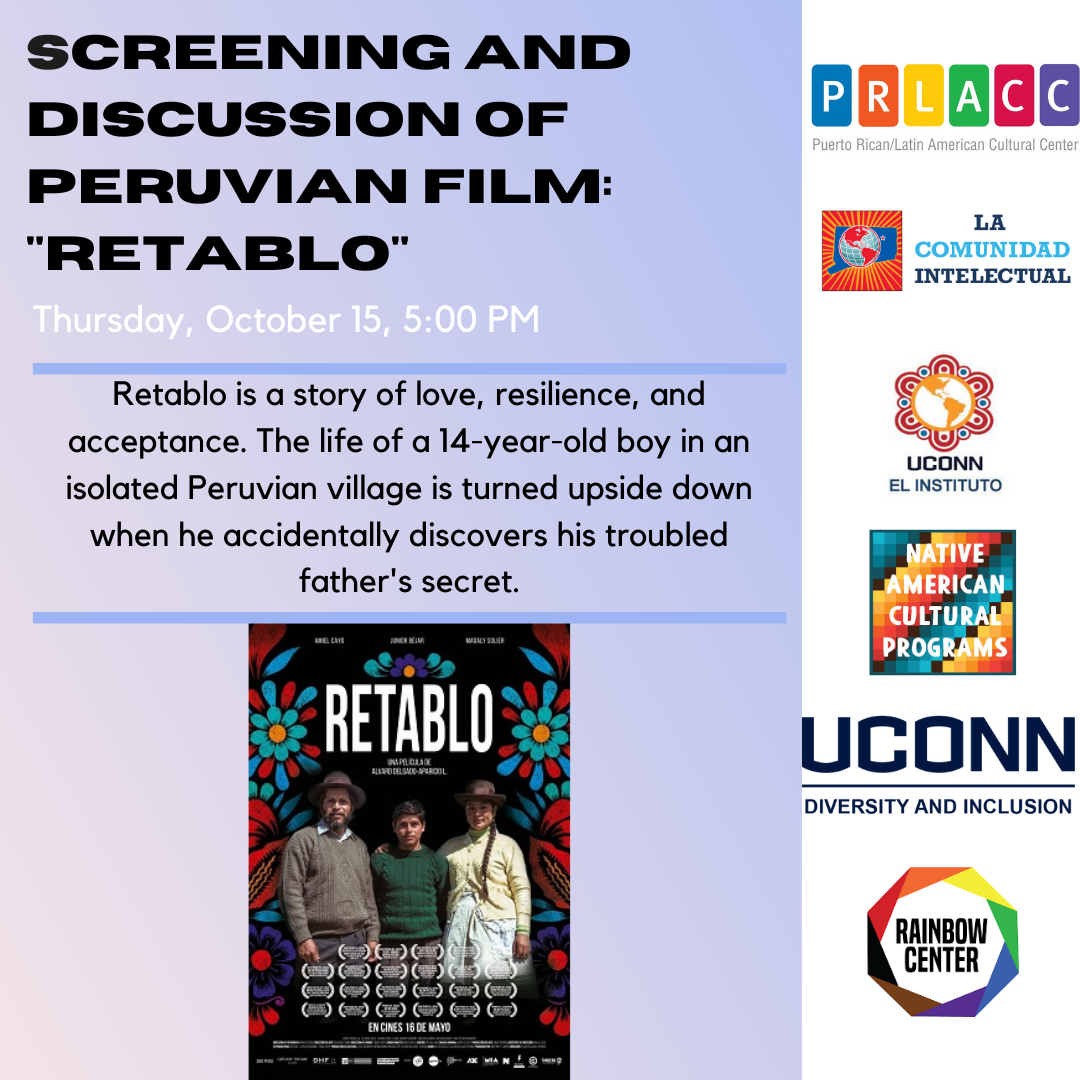 Film Screening and Discussion: Retablo 5pm via Zoom
In collaboration with PRLACC and the Rainbow Center
This film follows character Segundo, a young boy from rural Peru, as his father trains him in the family tradition of designing and building religious retablos. But a secret may shatter Segundo's world and everything he believes in. Includes LGBTQ and mental health related themes.
To watch the film via Zoom, click here. 
Zoom Meeting ID: 997 2966 1597 Passcode: qvTE86
Friday, Oct 16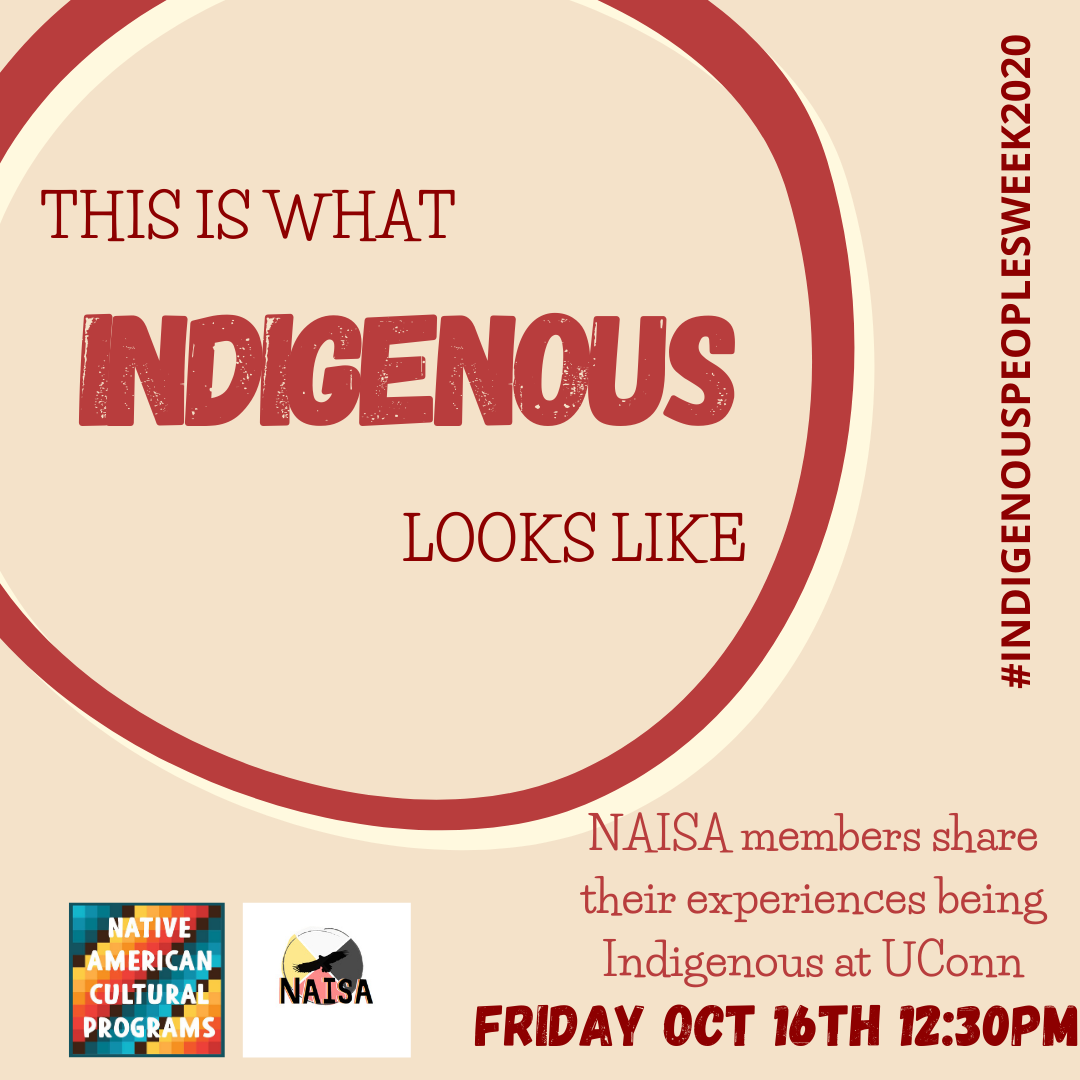 Listening Event—"This is What Indigenous Looks Like" 12:30pm via Zoom
Hosted by the Native American and Indigenous Student Association (NAISA).
NAISA members share their experiences being Indigenous at UConn.
To join the NAISA meeting, click here. 
Zoom Meeting ID: 953 2132 3711 Passcode: b8dApP