About NAISA
Welcome to NAISA! We are the Native American & Indigenous Students Association at UConn. Our hope with this organization is to create representation for Native and Indigenous students on campus. We plan to educate and advocate on behalf of current events, issues, cultures, traditions, and more. Stay tuned for our upcoming events!
Whether you identify as Native and/or Indigenous or not, we would love for you to join us!
Join our organization on UConntact for meeting reminders and updates!
To get involved or collaborate with NAISA, please contact our President, Samantha Gove: samantha.gove@uconn.edu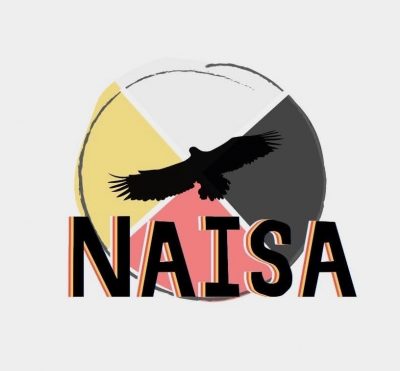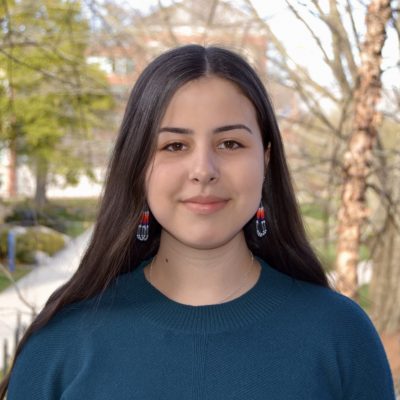 President – Samantha Gove
My name is Sammi and I am a member of the Mashantucket Pequot Tribal Nation. My pronouns are she/her and I am a Senior at UConn double majoring in Sociology and Human Rights with minors in Political Science and Psychological Sciences. I first joined NAISA as a freshman with the hope of finding a community of other Indigenous students at UConn, and it has been so exciting to see how much our community has grown over the years. I am thrilled to continue working with NAISA to provide space for lifting up Indigenous students, voices, cultures, and histories at UConn!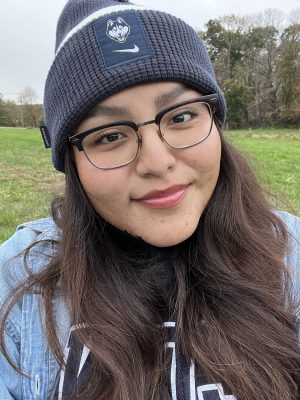 Vice President – Kylene Chino
My name is Kylene and I am a proud member from the Pueblo of Santa Ana and Navajo Nation. My pronouns are she/her. I am a Sophomore majoring in Sports Management. At the start of my first year, I was introduced to NAISA through my job at the Native American Cultural Programs. I was welcomed with open arms to a growing community and the connections I have made are lifelong. NAISA has become my family away from home especially since we all have grown a strong bond between one another. I am excited to work more with our community to increase our voice on campus as well as bring more members into our family. Can't wait to see what this year brings!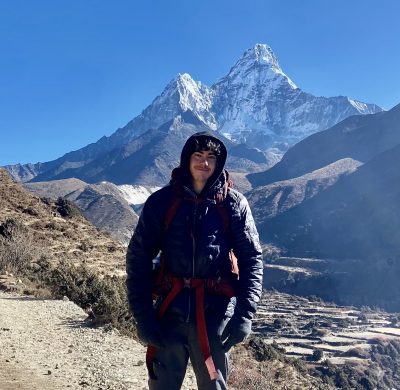 Secretary – Maceo Hertz-Velazquez
Hi! My name is Maceo and I'm majoring in Ecology and Evolutionary Biology (EEB for short). I am a junior and my pronouns are he/him/his. During the second semester of my freshman year, our current president Sammantha Gove introduced me to NAISA. With experience in a broad spectrum of Human Rights work, I strive to use my privilege as a means of creating space for those with less opportunities. My hopes are that NAISA can help make UConn a more inclusive space for Indigenous and Native students. Furthermore, given that our university is a land grant school I feel it necessary to understand the complete history of the places where we live, work, and foster our education. It should not go unnoticed that our institution benefits from a past filled with exploitation, oppression, and genocide. As a member of the NAISA e-board I am excited to continue learning and invite the rest of our student body to do the same!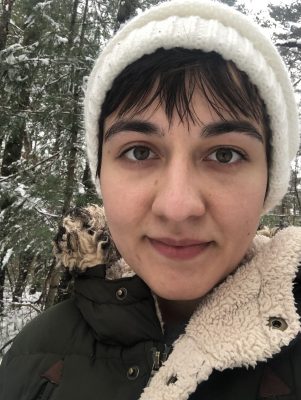 Treasurer – Paxton Tomko
Hello! My name is Paxton, I'm part of the Lumbee Tribe of NC and my pronouns are she/hers. I'm a senior studying Molecular Biology (MCB) and I love marine viruses! I joined NAISA after I transferred to UConn and immediately felt welcomed and supported by the members. Through my involvement I hope to continue to make NAISA a supportive and inclusive space for Native and Indigenous students.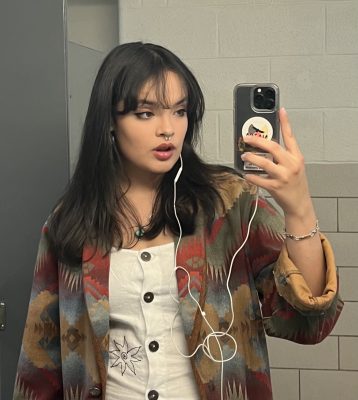 Social Media Chair – Frida Swallow
Hi! My name is Frida, my pronouns are She/Her/Hers and I am a part of the Oglala Lakota Tribe. I am currently a junior, getting my BFA in Theatre Design and Technology. I joined NAISA at the beginning of my sophomore year and it has been so great to be surrounded by people I can relate to. I'm so excited to be able to be more involved this year as Social Media Chair and can't wait to meet new members this year!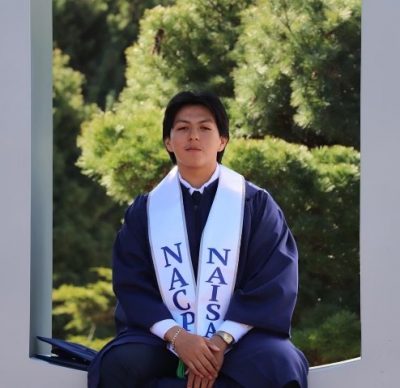 VP of Outreach – Ryan Bastidas
My name is Ryan and I am a Peruvian Quechua. My pronouns are also they/them/his. I am a graduate student in the Intersectionality, Indigeneity, Race, and Ethnicity in Politics (IIREP) program in the Political Science department. I first joined NAISA as a transfer student from the Stamford campus during my Senior year as an undergraduate student, looking for community with other indigenous students at UConn. From the start NAISA has been a welcoming and safe environment for all students and I am happy to see it grow quickly these past few years. I am excited to continue working with NAISA and further expand our representation and community on campus as a safe and inclusive space for Indigenous students and others seeking to learn.