About NAISA
Welcome to NAISA! We are the Native American & Indigenous Students Association at UConn. Our hope with this organization is to create representation for Native and Indigenous students on campus. We plan to educate and advocate on behalf of current events, issues, cultures, traditions, and more. Stay tuned for our upcoming events!
Whether you identify as Native and/or Indigenous or not, we would love for you to join us!
To get involved or collaborate with NAISA, please contact our President, Samantha Gove: samantha.gove@uconn.edu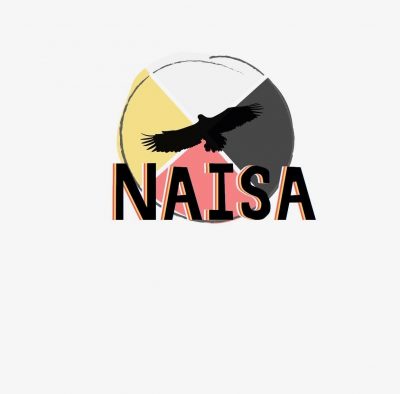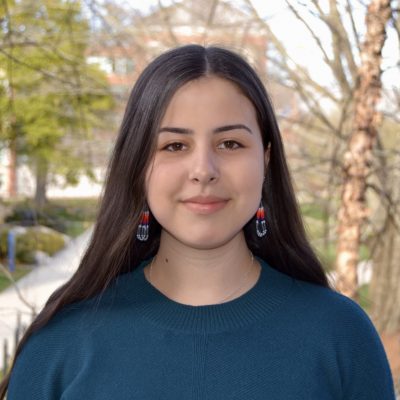 President – Samantha Gove
My name is Sammi and I am a member of the Mashantucket Pequot Tribal Nation. My pronouns are she/her and I am a Junior at UConn double majoring in Sociology and Human Rights with a minor in Psychological Sciences. I first joined NAISA as a freshman with the hope of finding a community of other Indigenous students at UConn, and I am so proud that NAISA has made strides in increasing representation for Native students like myself on campus. I am so excited to continue working with NAISA to provide space for lifting up Indigenous cultures, voices, and histories.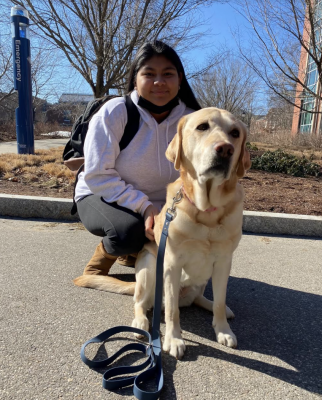 Vice President – Nina Reines
My name is Nina and I am part of the Indigenous Tribe, Mam and my pronouns are she/her. I am a sophomore and an Animal Science major on the pre-vet track. When I was first introduced to NAISA, I was glad to find a community that was warm and welcoming. It became a safe space for me to share my thoughts and I'm excited to work with NAISA to further increase our cultures and representation on campus.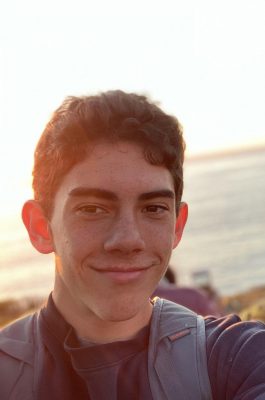 Secretary – Maceo Hertz-Velazquez
Hi! My name is Maceo and I'm majoring in Ecology and Evolutionary Biology (EEB for short). I am a sophomore and my pronouns are he/him/his. During the second semester of my freshman year, our current president Sammantha Gove introduced me to NAISA. With experience in a broad spectrum of Human Rights work, I strive to use my privilege as a means of creating space for those with less opportunities. My hopes are that NAISA can help make UConn a more inclusive space for Indigenous and Native students. Furthermore, given that our university is a land grant school I feel it necessary to understand the complete history of the places where we live, work, and foster our education. It should not go unnoticed that our institution benefits from a past filled with exploitation, oppression, and genocide. As a member of the NAISA e-board I am excited to continue learning and invite the rest of our student body to do the same!
Treasurer – Leina Rascon
My name is Leina Rascon, pronouns she/her. I am a biracial Chicana from Phoenix, Arizona. I am a sophomore majoring in Political Science with a minor in Crime and Justice on the Pre-Law track. I was introduced to NAISA through the Human Rights and Action Learning Community of which I am the co-mentor for the LC. Considering UCONN is built on Native grounds, it is our duty to help elevate the knowledge of our Husky peers to learn more about the culture and history of locations we reside in. I hope that working with NAISA will lead to encouragement of education on Native people and their culture and that our school will be encouraged to learn as well.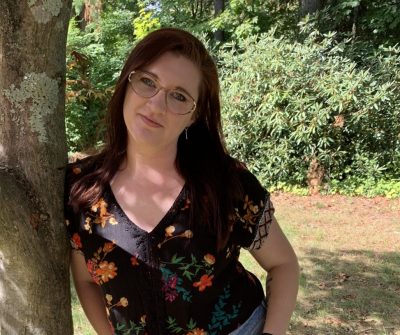 Advisor – Kaylee Mootz
Kaylee is a Doctoral Candidate in the English Department studying Native American Literature. She has been working with stakeholders throughout the university to promote Native American and Indigenous Studies and to build community for Native students at UConn and between UConn and the Native nations on whose land UConn stands. Kaylee feels honored to serve as the advisor for NAISA.