November is Native and Indigenous Heritage Month!
Native and Indigenous Heritage Month, also known as American Indian and Alaska Native Heritage Month allows us to celebrate the many diverse cultures within Native and Indigenous communities. Although we all come together as Native peoples at our core, every tribe, nation, and clan has their own traditional ways of life and culture. NIHM at UConn is a time for our community to be represented in spaces of different topics and interests significant to Native cultures. We use the month to bring our Husky community together to learn about and uplift all Native peoples.
For 2021, our theme for Native and Indigenous Heritage Month is "Indigenous Voices Rising." During this month we want to highlight all of the amazing things that Indigenous peoples in the US and across the world are accomplishing.
Join the Fall 2021 Planning Team!
Are you interested in event coordinating, fundraising, or advertising? Do you want to get more involved with NACP?
Join one of the three committees working on Indigenous Peoples' Week and Native and Indigenous Heritage Month for this fall!
Outreach and Funding
Advertising and Branding
Events Coordinating
We have a busy fall full of programming ahead! If you would like to join or need more information, please contact Sage Phillips: sage.phillips@uconn.edu
---
Native and Indigenous Heritage Month 2021:
Land Back and Land Art: Discussion with Navajo Artist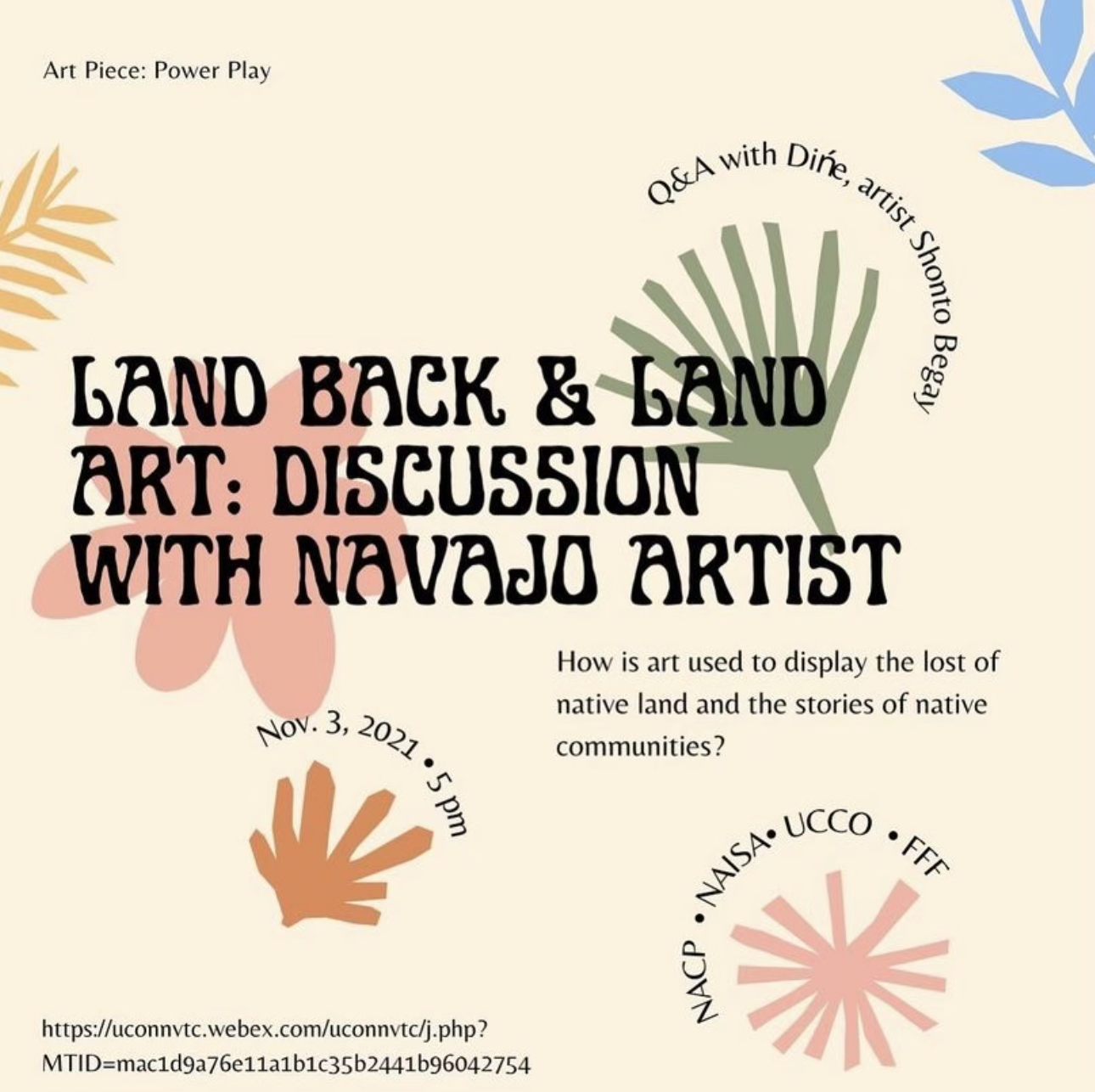 Land Back and Art: Discussion with Navajo Artist! We will be hosting this event over WebEx.
WebEx Info: Join by phone
+1-415-655-0002 US Toll
Access code: 262 377 67088
NAISA Community Paint Night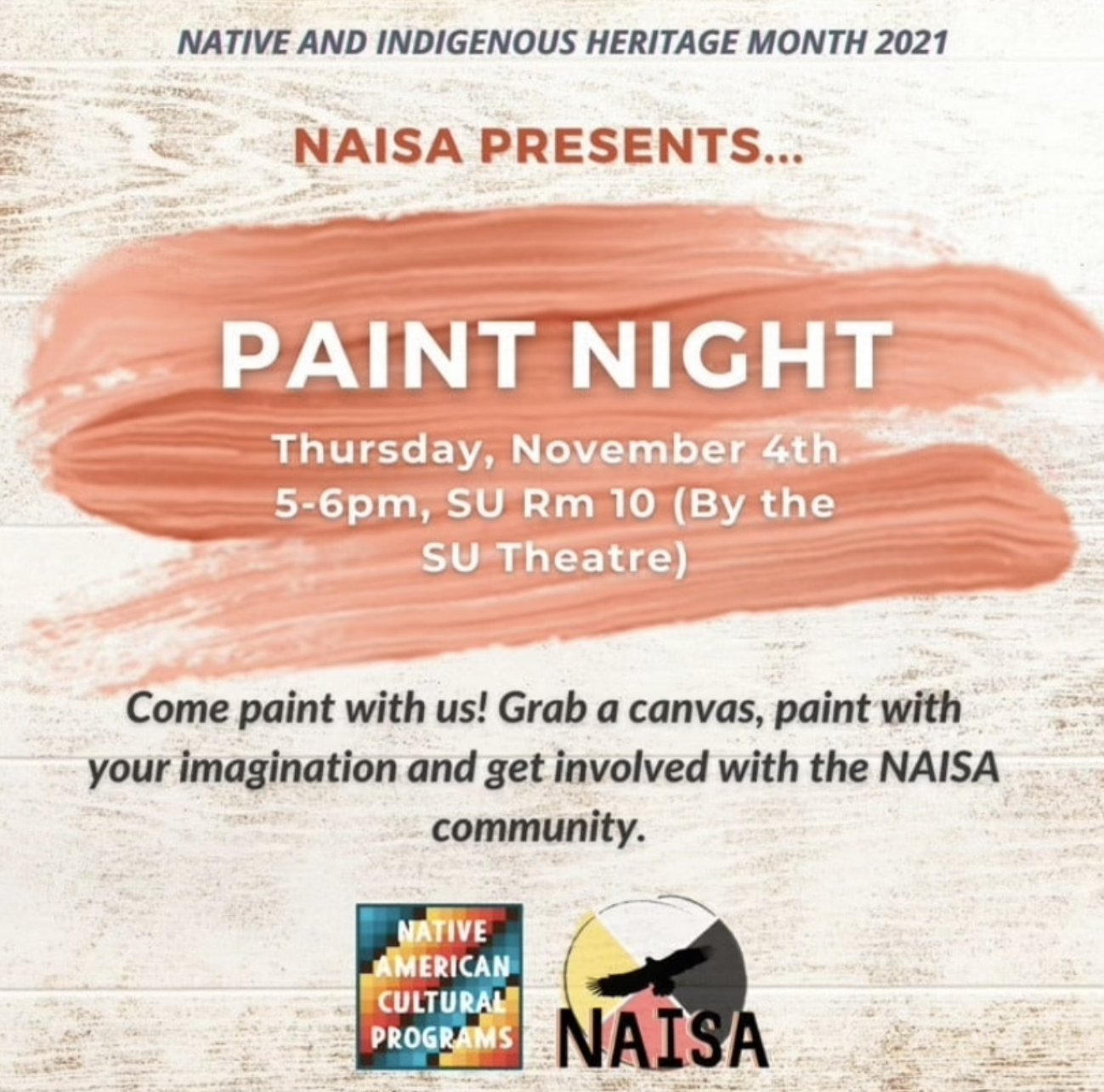 Stop by Student Union Room 10 for a chill night of painting and talking with the NAISA community.
Indigenous Women and Two-Spirits in STEM Panel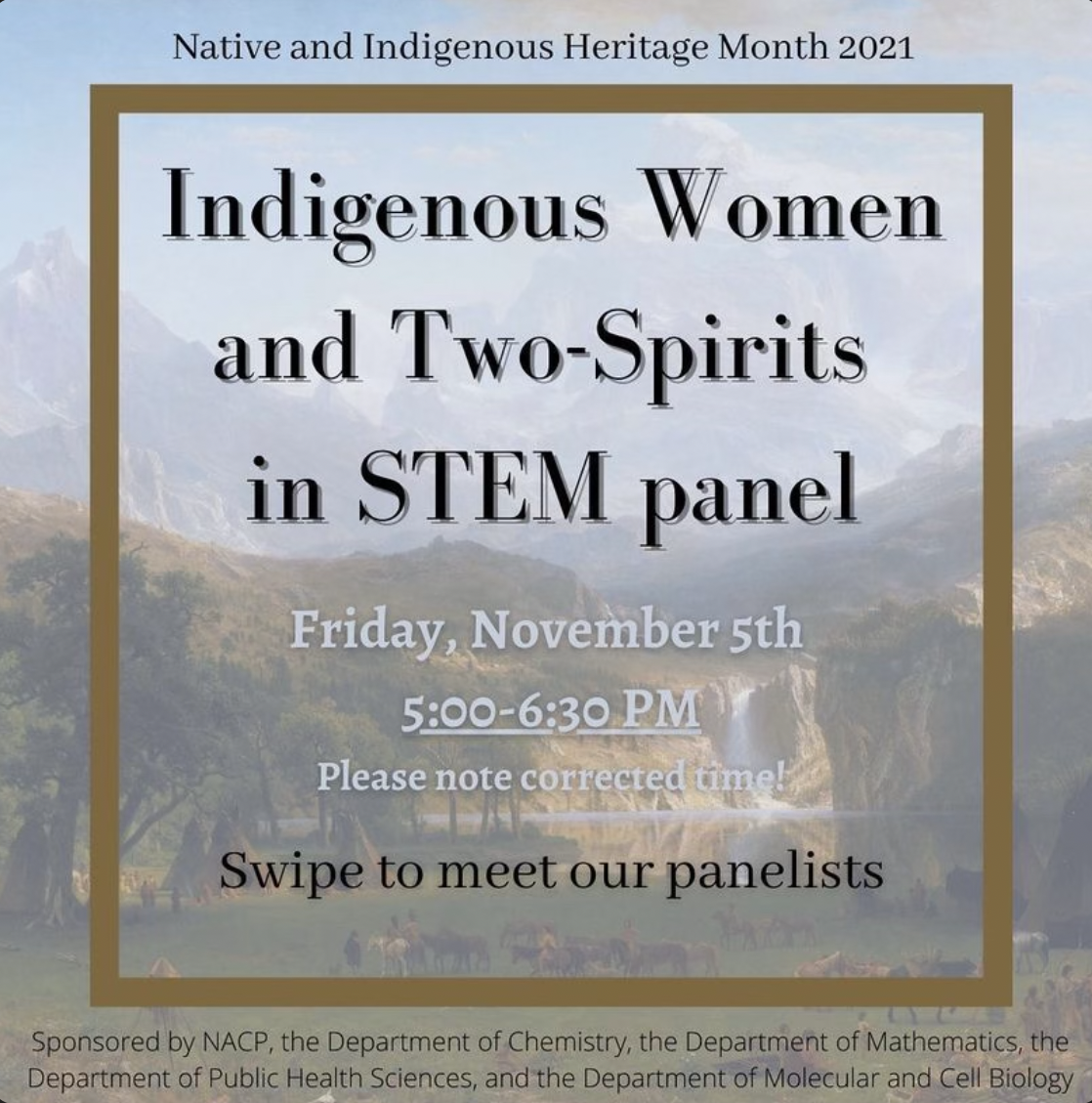 Join us for a panel on Indigenous women in STEM sponsored by NACP, the Department of Chemistry, the Department of Mathematics, the Department of Public Health Sciences, and the Department of Molecular and Cell Biology.
Committed: Remembering Native Kin In and Beyond Institutions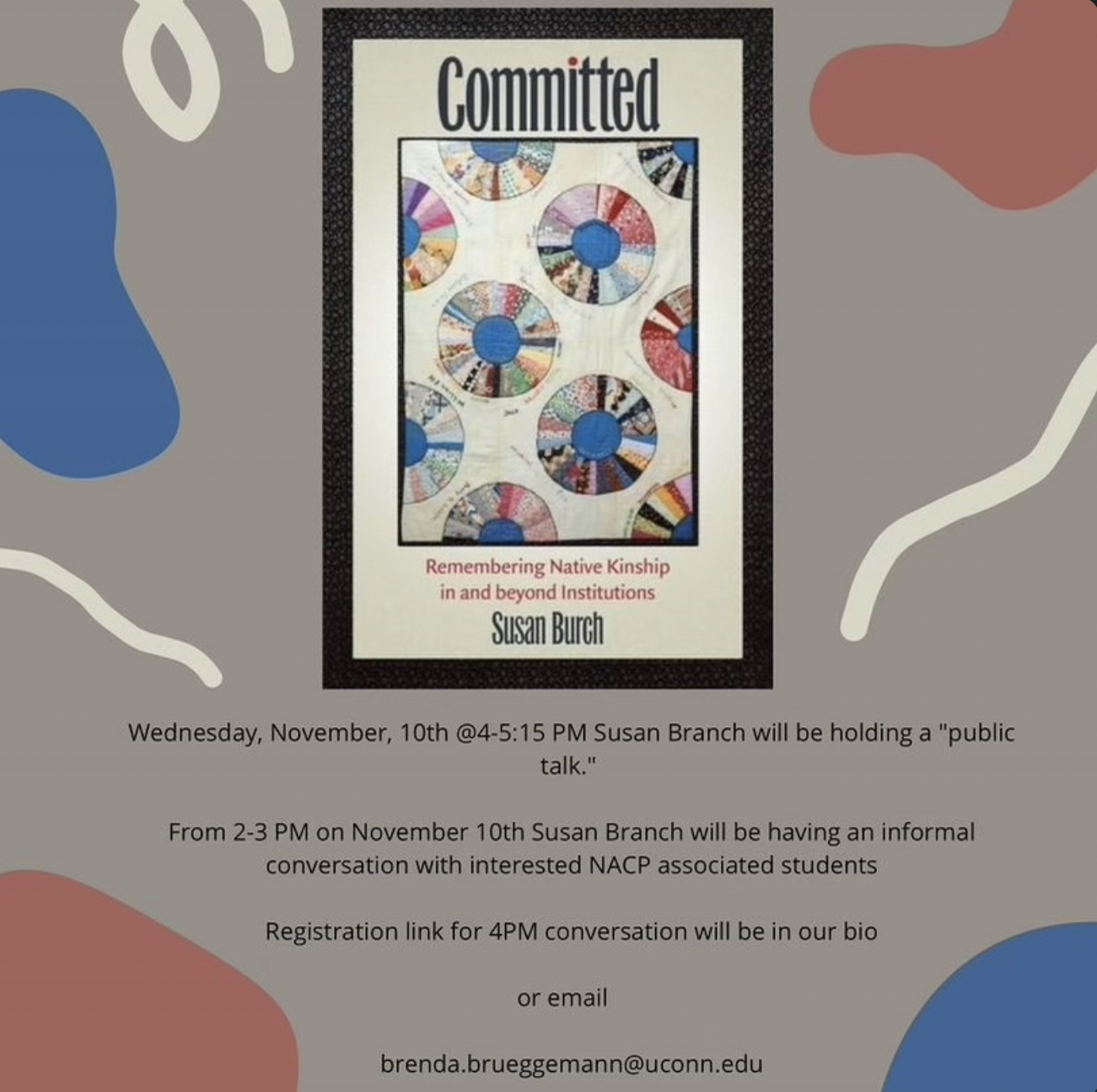 Join us for "Committed: Remembering Native Kin In and Beyond Institutions" with Dr. Susan Burch by first registering for the event here: https://www.eventbrite.com/e/committed-susan-burch-public-talk-on-wed-nov-10-4-515pm-tickets-201101458877.
Red Pedagogy: Native American Social and Political Thought, 10th Anniversary Edition Book Discussion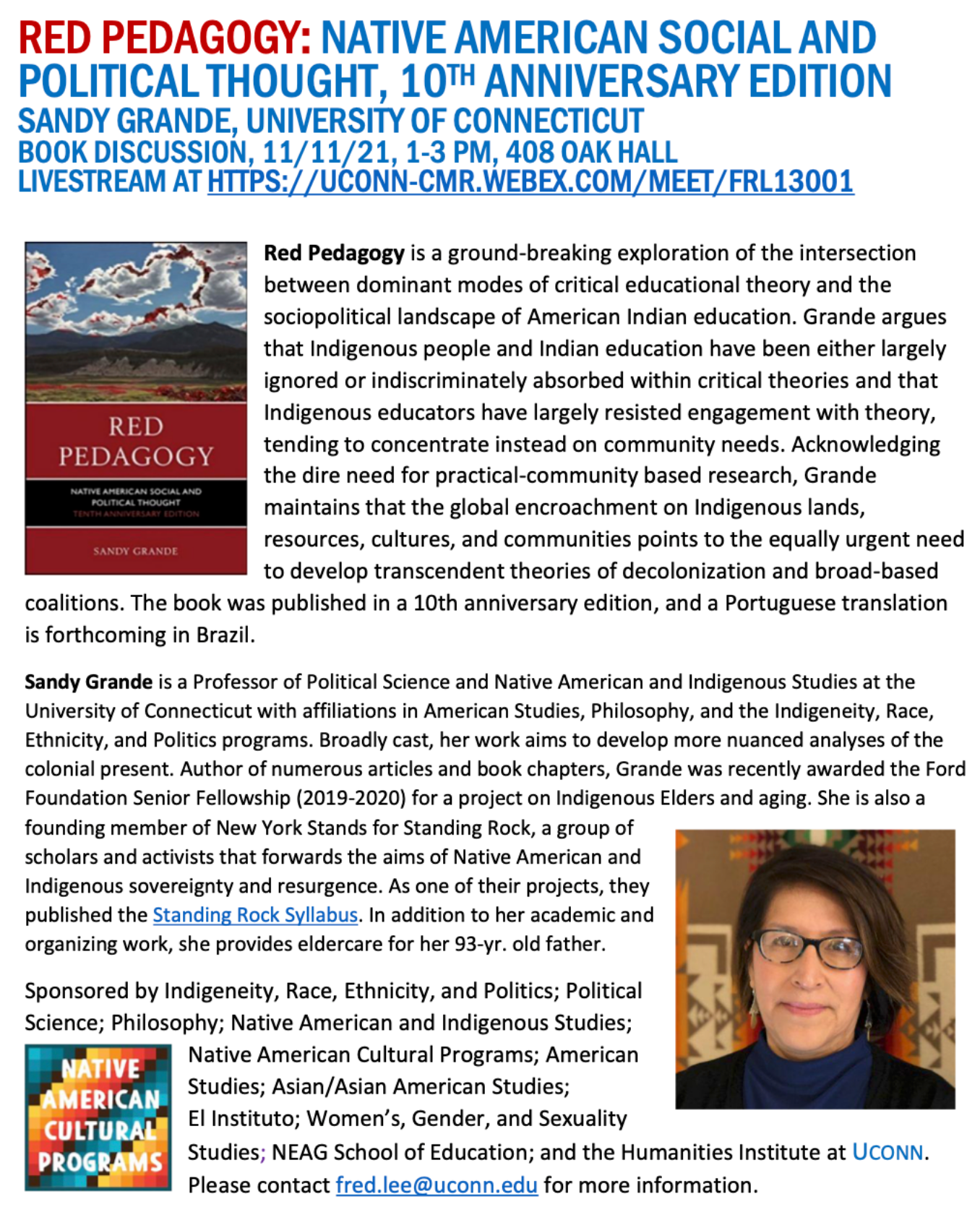 Join us for this book discussion led by Sandy Grande at Oak Hall, room 408, from 1-3pm on 11/11/21. Livestream  it online at https://uconn-cmr.webex.com/meet/frl13001.
Land Grab CT: A Dialogue on UConn's Colonial History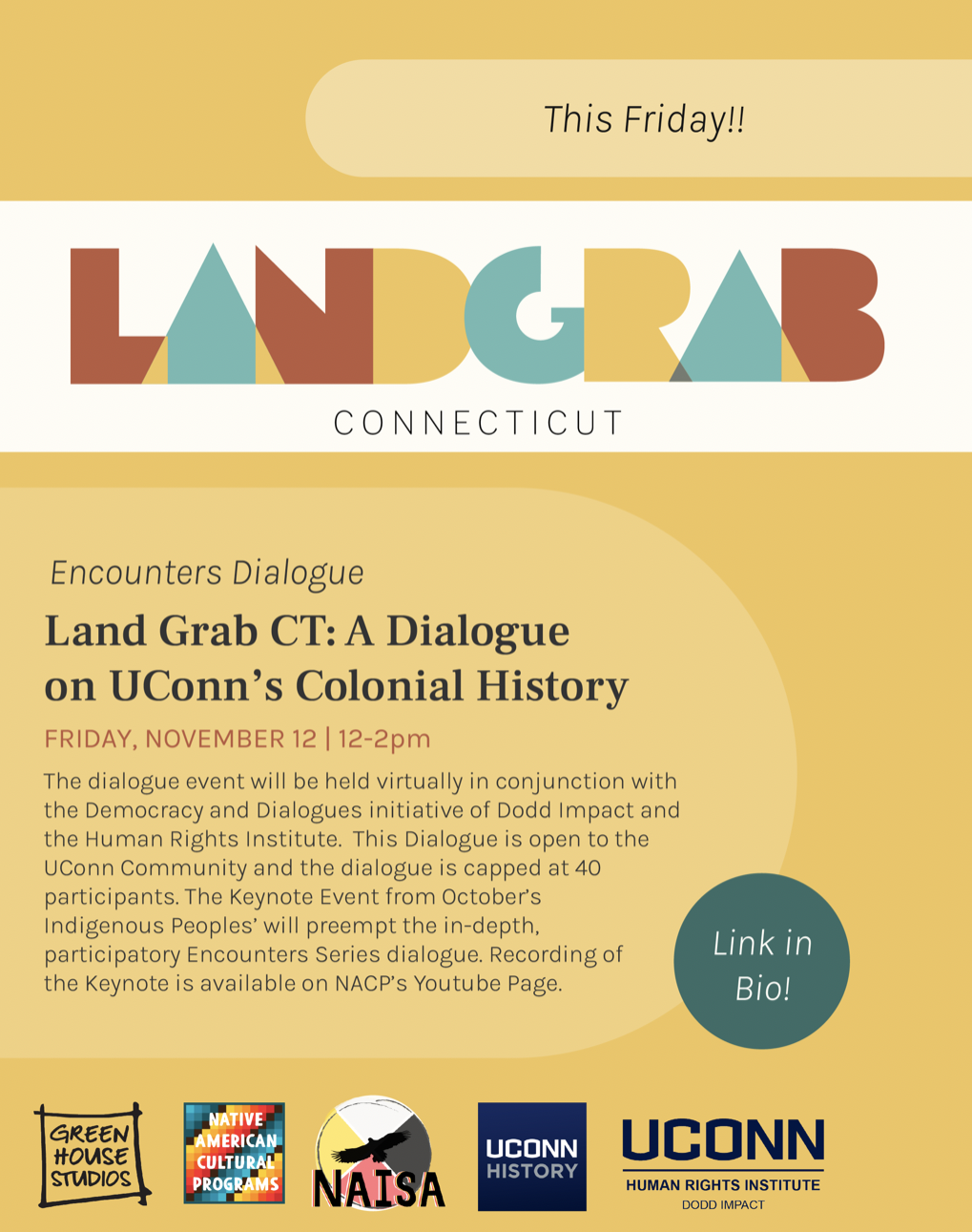 This dialogue will be held virtually in conjunction with the Democracy and Dialogues initiative of Dodd Impact and the Human Rights Institute. This Dialogue is open to the UConn community and the dialogue is capped at 40 participants. The Keynote Event from October's Indigenous Peoples' Week will preempt the in-depth, participatory Encounters Series dialogue. The recording of the Keynote is available on NACP's YouTube page.
Register here: https://us02web.zoom.us/meeting/register/tZcvdOuprD8oHdcBp_l-PSZ1RH6eTfBqyFL8.
Federal Indian Law and its Impact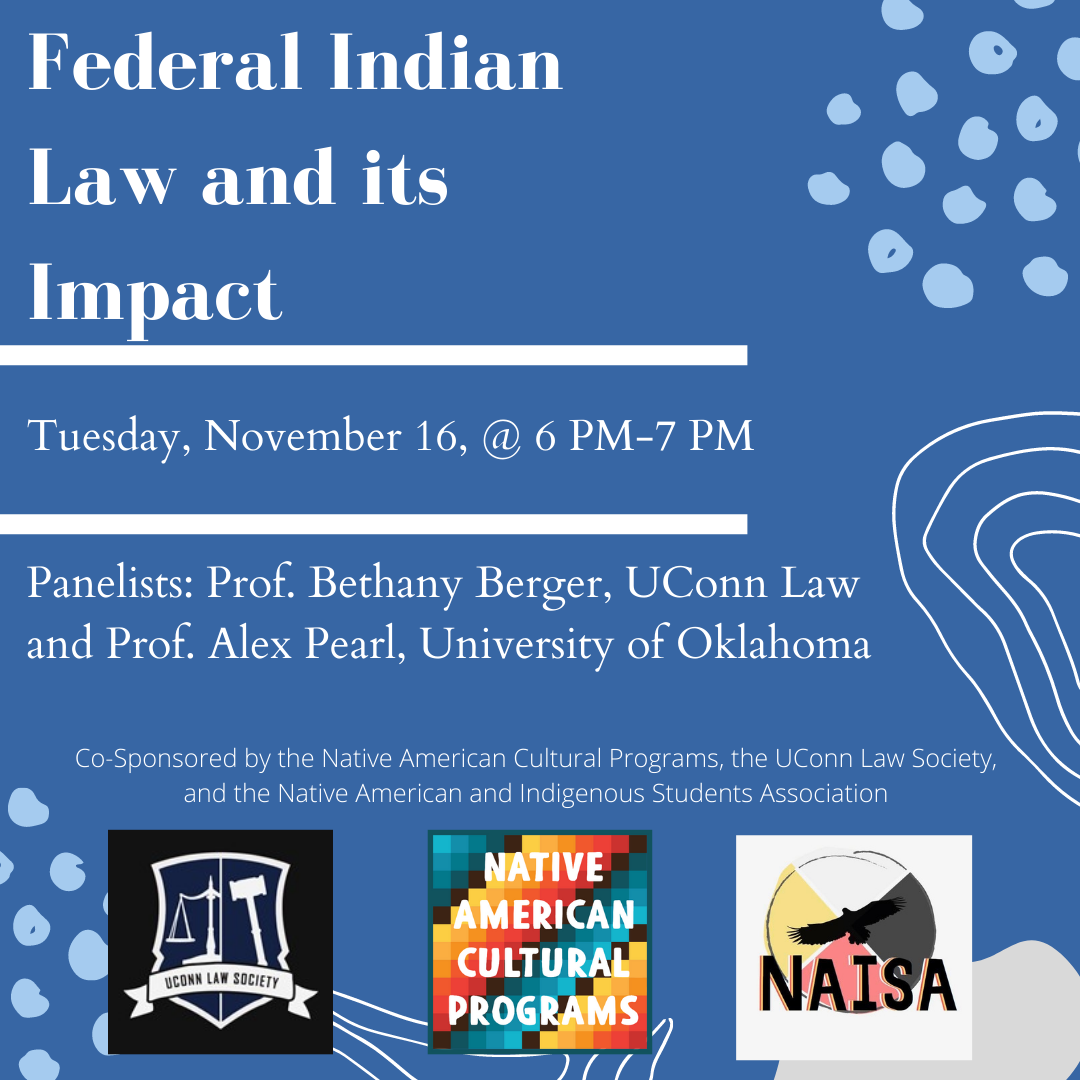 Join us for a panel discussion with UConn Law Professor Bethany Berger and University of Oklahoma professor Alex Pearl at https://uconnvtc.webex.com/uconnvtc/j.php?MTID=m7c8823edc537e978282697d25ea70526.
Indigenous Fashion: A Conversation with Native Designers and Creatives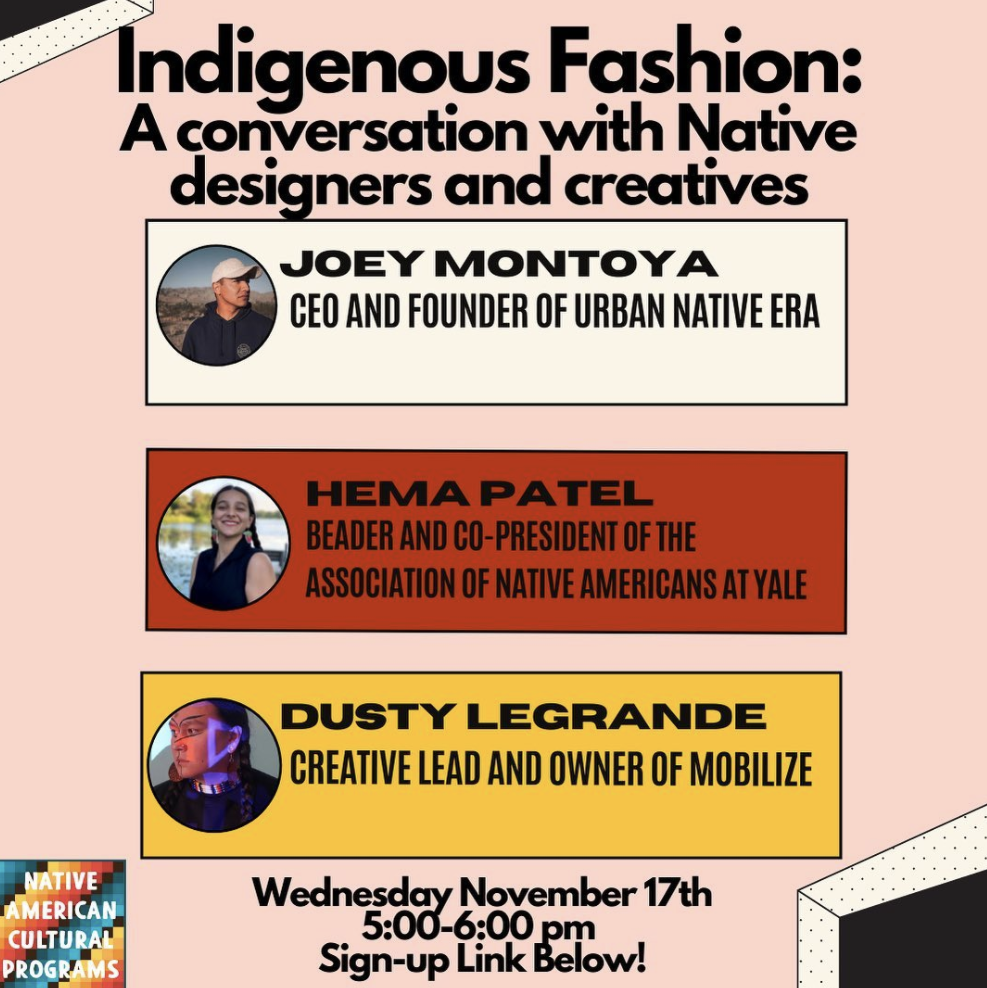 Join us in our conversation with Joey Montoya (CEO and founder of Urban Native Era), Dusty LeGrande (Creative Lead and owner of Mobilize), and Hema Patel (Beader and Vice President of the Association of Native Americans at Yale University).
Register here: https://www.eventbrite.com/e/indigenous-fashion-a-conversation-with-native-designers-and-creatives-tickets-208710748467.
The Beginning and End of Rape: Missing and Murdered Indigenous Women and Girls, A Conversation with Sarah Deer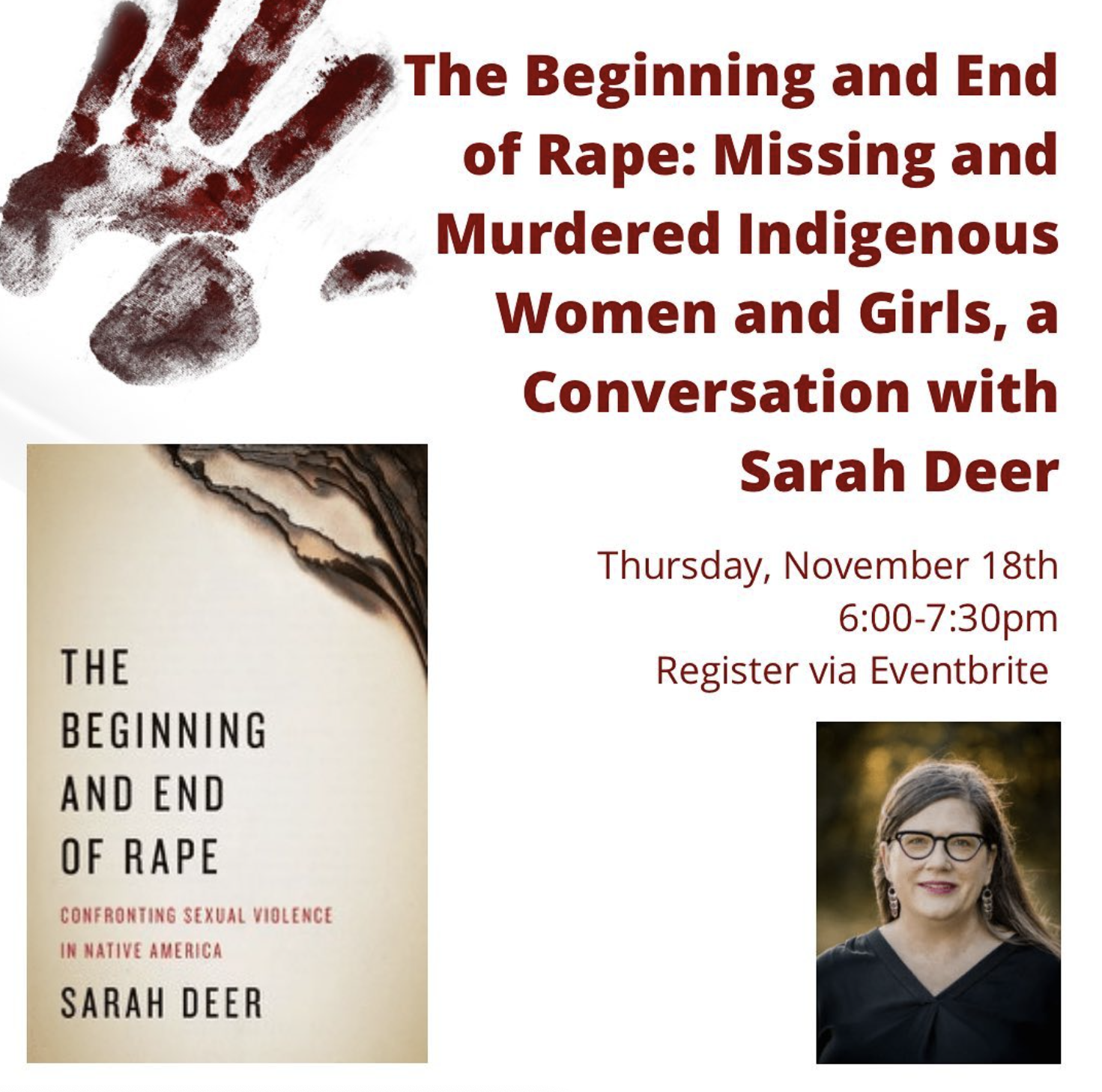 Muscogee legal scholar Sarah Deer is our keynote speaker for Native and Indigenous Heritage Month! She will be joining us on WebEx to discuss her book "The Beginning and End of Rape: Confronting Sexual Violence in Native America."
Please register here: https://www.eventbrite.com/e/the-beginning-and-end-of-rape-mmiwg-a-conversation-with-sarah-deer-tickets-207977575527.
Minoritized Languages of the North Atlantic: A Workshop on Mohegan-Pequot (Algonquian) and Irish (Gaelic)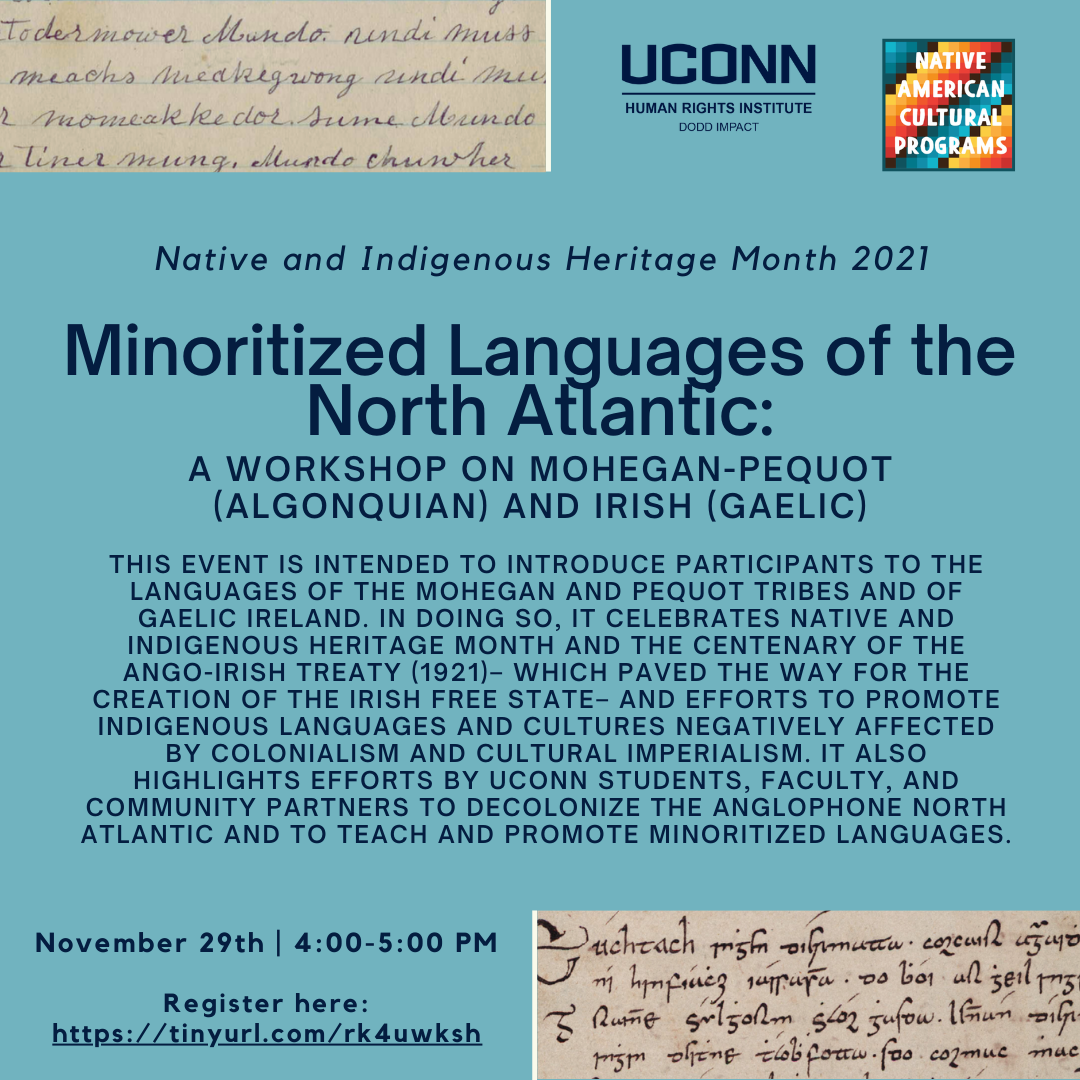 Please join us, in collaboration with the Dodd Center for Human Rights, in an event to introduce participants to the living and historical languages of the Mohegan and Pequot tribes and of Gaelic Ireland. This workshop will highlight efforts by UConn students, faculty and community partners to decolonize the Anglophone North Atlantic and to teach and promote minoritized languages. Brief presentations on each language will be followed by opportunity to learn some basic phrases and vocabulary.
Please register here: https://tinyurl.com/rk4uwksh.